News
Physical therapy found to be more effective for carpal tunnel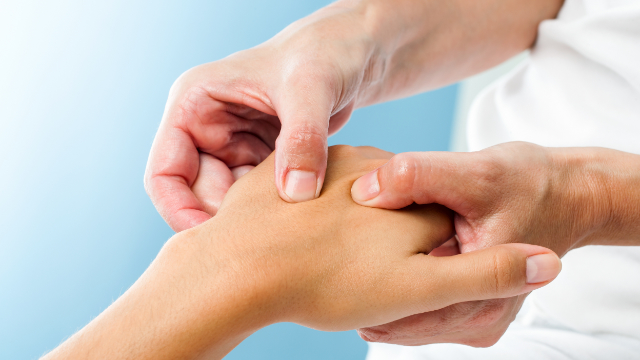 Debate still exists on which treatment is better
Carpal tunnel syndrome (CTS) is a condition that causes numbness, tingling and weakness in the hand due to too much pressure on a particular nerve in the wrist. Between 6-12% of the population deals with the symptoms of CTS on a regular basis, which causes many individuals to miss work as a result. Treatment for CTS can be either surgical or conservative (non-surgical), and there is still a fair amount of debate on which treatment is more beneficial. Although surgery has been found to lead to better long-term results in some studies, it's also been shown that 33% of individuals who have surgery do not return to work two months later. In addition, physical therapy is commonly used as a conservative treatment for CTS, but there is not a great deal of evidence to support it. For these reasons, a powerful study called a randomized-controlled trial (RCT) was conducted to compare the effectiveness of surgery to a hands-on form of physical therapy called manual therapy for patients with CTS.
Patients randomly assigned to one of two treatment groups
Individuals diagnosed with CTS were invited to participate in the study, and a total of 95 fit the necessary criteria. These participants were then randomly assigned to one of two groups: the manual therapy group or the surgery group. Patients in the manual therapy group attended three 30-minute treatment sessions over three weeks to address their condition. The manual therapy consisted of the physical therapist performing a series of movements and maneuvers with their hands to the wrist and other areas of the body that may have affected nerves in the wrist. This included the hand, biceps, pectoral and shoulder muscles. The final session focused exclusively on education, and participants were instructed to perform certain exercises twice a day for one month. Patients in the surgery group were treated with a surgical procedure called endoscopic decompression and release of the carpal tunnel and then attended the same education session as the manual therapy group afterward. All participants were evaluated before treatment, and then again three, six, nine and 12 months later for pressure pain threshold—the minimum force applied that causes pain—and several other outcomes.
Manual therapy leads to greater improvements than surgery
After one year, results showed that patients in both groups experienced improvements from their treatments. In particular, these patients reported less intense pain and less sensitivity to pain at both six and 12 months after treatment. The manual therapy group, however, showed even greater improvements than the surgery group in their pain intensity at three months and their pressure pain threshold at three, six and nine months. These findings suggest that surgery and manual therapy seem to be beneficial to a similar degree for patients with CTS, but manual therapy may be slightly more effective. In addition, manual therapy comes with far fewer risks and is significantly less expensive than surgery. For these reasons, manual therapy could be considered a preferable treatment option for CTS, but each patient should make their decision individually after carefully weighing the pros and cons of each approach.
-As reported in the March '17 issue of the
European Journal of Pain
April 10, 2018
See News
Disclaimer:
The information in the articles, posts, and newsfeed is intended for informational and educational purposes only and in no way should be taken to be the provision or practice of physical therapy, medical, or professional healthcare advice or services. The information should not be considered complete or exhaustive and should not be used for diagnostic or treatment purposes without first consulting with your physical therapist, occupational therapist, physician or other healthcare provider. The owners of this website accept no responsibility for the misuse of information contained within this website.