News
Managing Your Knee Pain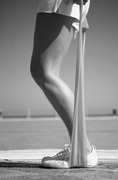 If you've injured your knee and have had to undergo knee arthroplasty or knee replacement surgery, then it's likely that you've had some anxiety about moving your knee during your recovery period. However, some recovering patients are so terrified to move their knee that it results in the development of kinesiophobia, or, to put it simply, the fear of movement. The overwhelming anxiety attached to the act of moving an injured knee, and the worry of how the injury will affect their livelihood,can make physical therapy a considerable, if not overwhelming, challenge.
Fortunately, there is a considerable amount of home for patients suffering from kinesiophobia. A recent study conducted by researchers from the Scientific Institute of Lissone, Milan and the University of Rome have shown that patients who are afflicted by overwhelming anxiety over the movement associated with physical therapy respond much better to specific and functional at-home exercises than those patients who are simply told to stay active after being discharged from a rehabilitation unit.
The study took place over the course of six months, and the results are extremely encouraging. In the group of kinesiophobic patients, researchers told individuals to continue the functional exercises they learned during hospitalization during twice-weekly 60 minute sessions over the course of the six months. The patients in the experimental group were also given a book that contained information about how they could manage their kinesiophobia. To help gauge the results of the trial, the study set up a control group of patients who were simply told to continue their exercises at home after being released from the hospital.
The results of the study determined that the experimental group, the patients engaging in twice-weekly sessions, had a significant improvement in their quality of life and management of kinesiophobia. As the six months progressed, patients reported that their fear of pain lessened and that they were able to engage in more functional at-home exercises. What's even more encouraging is that these results lasted for six months after the trial ended, which makes this a viable solution for knee replacement patients who require long-term recovery.
The control group, on the other hand, did not report a significant improvement in their quality of life, and still reported powerful fear-avoidance beliefs and pain intensity. These are both common symptoms of kinesiophobia.
The researchers conclude that home-based programs that incorporate weekly sessions and information designed to manage kinesiophobia are much more effective than those that simply rely on the patient to manage recovery without this critical information. If you think you're suffering from kinesiophobia or are scheduled for a knee replacement surgery, consider talking to your doctor about the symptoms of kinesiophobia and how you can manage it with functional at-home exercises.
As reported in the 2012.10.003 Issue of Archives of Physical Medicine and Rehabilitation.
August 8, 2013
See News
Disclaimer:
The information in the articles, posts, and newsfeed is intended for informational and educational purposes only and in no way should be taken to be the provision or practice of physical therapy, medical, or professional healthcare advice or services. The information should not be considered complete or exhaustive and should not be used for diagnostic or treatment purposes without first consulting with your physical therapist, occupational therapist, physician or other healthcare provider. The owners of this website accept no responsibility for the misuse of information contained within this website.